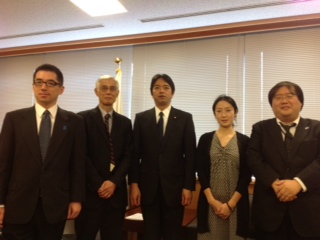 On the 30th of October, a few member organizations of the ICNK along with other related groups visited the Japanese Ministry of Foreign Affairs. Staff members from Human Rights Watch, Human Rights in Asia, and Mr. Kawazoe Tomoyuki, an ICNK member, met with Mr. Shimba Kazuya, one of the Japanese Parliamentary Senior Vice-ministers for Foreign Affairs.
The purpose of the meeting was to ensure that the Japanese government recognizes the importance and necessity of the establishment of a Commission of Inquiry for North Korean crimes against humanity. The team that met the Vice-minister handed over a request paper that asked the Japanese government to consult with the EU and other key countries in order to establish a Commission of Inquiry. More importantly, however, the request paper petitioned the government to act swiftly and present a resolution in the UN General Assembly or the UN Human Rights Council that demonstrates the urgent need for the establishment of a Commission of Inquiry into North Korea's crimes against humanity.
Ms. Kanae, a staffer from Human Rights Watch, explained to Mr. Shimba about the activities and organization of the ICNK. She then went on to discuss the importance and necessity of the establishment of a COI for North Korea. Mr. Shimba stated that he took seriously the crimes against humanity inside and outside North Korea. In regards to crimes against humanity outside North Korea, he said that the abduction issue was important. He went on to say that the North Korean problem was complicated and difficult. Therefore, he stated, there needs to be more agreement in the international community with how to tackle those issues. Mr. Shimba then said he would study more about North Korea and the steps needed to make a COI function.
Ms. Kanae stated that the problems in North Korea are of the utmost urgency. Moreover, she said, things need to be moved forward more quickly so action was need as soon as possible. Mr. Shimba said that the issues are not problems that can be solved quickly, but he would continue to work on the issue because of the serious nature of the crimes.
The members that attended the meeting with Mr. Shimba agreed that he is keen to work on the North Korean problem, and that he is taking the issue more seriously than other previous ministers have.